William B. Greeley Memorial Laboratory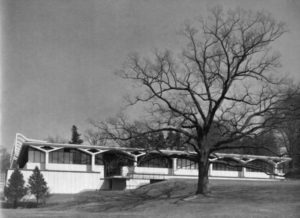 Date(s): 1957-1959
Location: New York, NY
Status: Built
Type: Laboratory
The William B. Greeley Memorial Laboratory, named in honor of William Buckhout Greeley (M.F. 1904, MA Hon. 1927), was completed in 1959 and is the first of Paul Rudolph's five built works in New Haven; three of which are on the Yale campus. The original program for the one-story structure included one classroom, seven laboratories and a greenhouse for the Yale School of Forestry and Environmental Studies.
Paul Rudolph described his design for Greeley Laboratory as: "A precast concrete structure entirely exposed which attempts to exploit some of the plastic characteristics of concrete. The relationship between the enclosed nature of the various rooms and the pavilion-like character of the building is unresolved."
Like many buildings of its era, a common complaint had been that it was outmoded and unworkable. Recent renovation projects undertaken by local firms renovating laboratories, offices and common spaces have proven otherwise. The Foundation's concern over the building's replacement still lies with the expansion of the School of Forestry into the LEED Platinum Kroon Hall designed by Hopkins Architects of London with Centerbrook Architects.
Located in a field at the northern edge of campus, Greeley sits in an undefined area between Yale's Science Hill to the east and the department's greenhouses to the west. Beyond are the former Winchester Repeating Arms factories, currently being reincorporated at Science Park, a joint venture between Yale and the private sector. Yale's 2001 "A Framework for Campus Planning" prepared by Cooper Robertson and Partners left Greeley's future uncertain. The university's most recent planning effort's by Centrbrook Architects is more direct: it should be replaced.
Despite years of deferred maintenance and these professional opinions, Yale as put additional resources into Greeley Memorial in recent years and we hope it maintains its commitment to this early Rudolph building as the campus spreads further north.
Recent Renovation Efforts
In late 2009, Yale University completed the sensitive transformation of a worn-out lab in the building's southwest quadrant into a new environmental geology laboratory and faculty office. The renovation, by Dean Sakamoto Architects of New Haven, paid close attention to the original materials and finishes and maintains continuity with the unrenovated portions through the use of reclaimed hardware. New building systems were delicately integrated via wire moulding and carefully scribing plexi-glass to the unique profile of the patterned concrete ceiling.