The Concourse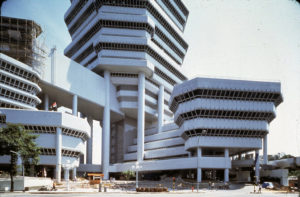 Date(s): 1994
Location: Singapore
Status: Built
Type: Residence/Hotel
Singapore is located near the equator and its tropical climate demands a special architecture that is sensitive to the levels of light, heat and humidity. The Concourse Building is a skyscraper that uses solar shading and communal gardens and external balconies to address the climate and exploit the lush tropical vegetation. Wide overhangs give the tower its distinctive silhouette of an inverted pagoda. Situated on a prominent site along Beach Road in Kallang everybody traveling from the airport into town sees the Concourse Building from the highway. It is a mixed-use building with commercial and residential uses. The project commenced in 1981 and was known as the Hong Fok Centre or Beach Road I then. But construction stopped when Singapore's economy was in a recession. In 1987 Rudolph re-designed the complex retaining what was already constructed but enlarging the office portion.
The office tower with 41-stories and a height of 574 ft stands adjacent to a three-level retail podium with 87 serviced apartments above. The apartments vary in size, and include a swimming pool, squash courts and a fitness centre. The apartments overlook the Kallang River Basin in the South. The two low wings stretch along the perimeter in a reverse S-configuration. The multi-level shopping center along Beach Road is arranged around a three-storey sky-lit atrium. All three components have separate entrances.
The office tower is octagonal in plan as the number "8" is a lucky number in Chinese culture. It is supported by 12 huge pilotis on the first five stories that elevate the building. An impressive, tapering reception hall five stories in height enjoys clerestory natural lighting.
The façades of the apartments and retail podium are faceted. The aluminum curtain wall of the tower has inclined ribbon windows, sunshades und protruding eaves. Interlocking clusters are stacked vertically one above the other, rotating around the building.14 sky-atria in the tower form reception lobbies.
Structural Engineer: Architects 61
Drawings: Design Drawings / Sketches: Paul Rudolph Architect via LOC
Photos: Courtesy PRF