23 Beekman Place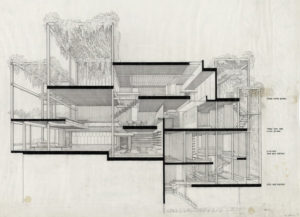 Date(s): 1977-1995
Location: New York, NY
Status: Built
Type: Residence
In 1961, Rudolph began renting a small one-bedroom apartment at 23 Beekman Place overlooking the East River in Manhattan.  Through a series of three major renovations he tested out his latest ideas for experimental materials and especially artificial lighting effects. In his bedroom he installed a "light curtain", a series of light bulbs suspended in front of mirrored wall that gave the illusion of infinite space.
A slump in the housing market allowed Rudolph to purchase the townhouse outright in 1974, and he immediately began an ambitious renovation project, transforming the historic brownstone into one of his most experimental statements on residential architecture.  Rudolph kept the existing structure as rental units, constructing a multi-level penthouse for himself on top. Extending over the sidewalk to maximize the building envelope, the constructivist steel and cement forms contained an interior of staggering complexity.
Often referred to as a "triplex", the penthouse contains precisely 27 different floor levels, supported by a steel skeleton clad in mirror-finish Formica.  Floors were covered in a combination of the same reflective metal, white marble, carpet, and glass; while the few walls were mostly of white melamine panels and cabinetry.  In the spirit of Sir John Soane's house in London, Rudolph filled the apartment with his collection of sculpture and textiles, with hanging vines bringing a living aspect to the otherwise monochromatic palette.
Officially 'completed' in 1982, Rudolph constantly tinkered with his apartment through for the rest of his career, eventually running his office from his bedroom. The building's exterior became a New York City Landmark in 2012.
Structural Engineer: Vincent DeSimone
Drawings: Design Drawings / Sketches: Paul Rudolph Architect via LOC
Photos: Post-Construction: Richard Geary
Bibliography
The Coolest Townhouse in Town Becoming a Landmark, Chaban, Matt , New York Observer, November 15, (2010)
Paul Rudolph's Former Residence and Two Federal-Era Buildings in Manhattan and a Rare Church in the Bronx are Named Landmarks, de Bourbon, Elisabeth, and Tierney Robert B. , New York City Landmarks Preservation Commission, November 16, (2010)
Saving Paul Rudolph's 23 Beekman, an Architectural Oxymoron, Chaban, Matt , New York Observer, November 16, (2010)
House of Sweetness and Spite, Gray, Christopher , New York Times, August 30, p.8, (2009)
Think/Make: Della Valle Bernheimer, Bernheimer, Andrew, 1968-, and Della Valle, Jared 1971- , New York, (2009)
Della Valle Bernheimer's Thoughtful Renovation of the Paul Rudolph Penthouse in New York Rises from his Original Intentions, Stephens, Suzanne , Architectural Record, June, Volume 195, Number 6, p.116-121, (2007)
Beautiful Headache: Architect Paul Rudolph's Genre-Defying Beekman Place House has Been Restored, with Modifications, to its Glassy Glory., Hay, David , New York Magazine, October 9, Volume 39, p.52-57, (2006)
Interview with William Grindereng: Longtime Architectural Associate of Architect Paul Rudolph / Interviewed by Bruce Barnes, Grindereng, William, and Barnes Bruce , June 28, (2006)
Interview with William Grindereng: Longtime Architectural Associate of Architect Paul Rudolph / Interviewed by Bruce Barnes, Grindereng, William, and Barnes Bruce , June 28, North Dartmouth, MA, (2006)
Key Houses of the Twentieth Century: Plans, Sections and Elevations, Davies, Colin , New York, (2006)
Let In the Light. Show Off the Tub. Who Needs Privacy?, Bernstein, Fred A. , New York Times, March 23, p.7, (2006)
Brick Walls, And Bad Blood, Deal, William Neumanbig , New York Times, January 16, p.1, (2005)
Portrait of an Architect, Kipling, Kay , Sarasota Magazine, December, Volume 27, p.152-157, (2004)
Conversation at 23 Beekman Place: Interview with Paul Rudolph by Peter Blake, Blake, Peter, 1920-2006 , Paul Rudolph: The Late Work, New York, p.202-217, (2003)
Paul Rudolph: The Late Work, De Alba, Roberto , New York, (2003)
Women's Places: Architecture and Design 1860-1960, Martin, Brenda, and Sparke Penny , New York, (2003)
Your Place or Mine? The Client's Contribution to Domestic Architecture, Friedman, Alice T. , Women's Places: Architecture and Design 1860-1960, New York, p.69-86, (2003)
Four Units, Furnished, Kellogg, Craig , Interior Design, September, Volume 73, p.246-247, (2002)
Paul Rudolph: A Constuctivist Masterpiece is Rescued in Manhattan, Schmertz, Mildred F. , Architectural Digest, December, Volume 58, p.160-168, 199, (2001)
Rudolph's Manhattan High-Rise Gets a Makeover, Mead, Andrew , Architects' Journal, December 20/27, Volume 214, p.18, (2001)
AIA Guide to New York City, White, Norval, and Willensky Elliot , New York, (2000)
A Constructivist Sculpture Fit for a Family?, Schwartz, Bonnie , Architectural Record, June, Volume 188, p.38, (2000)
La Vivienda de Paul Rudolph en Manhattan, , Diseno Interior, p.56-61, (2000)
A Modern Masterpiece Becomes Child Play: Paul Rudolph's Home is Bought by a Family, Schwartz, Bonnie , The New York Times, May 4, New York, p.1, 13, (2000)
Paul Rudolph; Rudolph House, New York, USA, 1975, Oshima, Ken Tadashi , Architecture and Urbanism, October, Number 10, p.260-271, 276, (2000)
Paul Rudolph Trust Loses Battle of Wills, Bevan, Robert , Building Design, May 12, p.2, (2000)
Closet Space, Sanders, Joel , Artforum, April, Volume 37, p.23, (1999)
Delight, Slessor, Catherine , Architectural Review, August, Volume 206, p.98, (1999)
Lectures, Gardening And Shows; [Schedule], , New York Times, March 4, p.7, (1999)
NYCInteriors: 23 Beekman Place, Zunino, Maria Giula , Abitare, May, p.[230]-[233], (1999)
Paul Rudolph: Casa Rudolph, New York 1977-1997: Spettacoli Pubblici E Privati / Public and Private Spectacles, Rohan, Timothy M. , Casabella, December/January, Volume 63, p.138-149, 171-173, (1999)
The Tower and the Sea, Tuten, Frederic , Nest: A Magazine of Interiors, Spring, (1999)
An Architect's Home Was His Modernist Castle, Mellins, Thomas , New York Times, June 21, p.11, (1998)
Life Story: Recognition at Last for Paul Rudolph, Kellogg, Craig , Wallpaper, March/April, Volume 9, p.69-71, (1998)
Paul Rudolph's Manhattan Penthouse, Rus, Mayer , Artforum International, December, Volume 37, Number 4, p.106, (1998)
Paul's Boutique: Who Will Buy the Late Paul Rudolph's House?, Lange, Alexandra , New York, July 13, Volume 31, p.12, (1998)
Rudolph's Pad on the Block, Giovannini, Joseph , Architecture, July, Volume 87, p.24, (1998)
Toil and Trouble In Plexi-Land, Brown, Patricia Leigh , New York Times, December 3, p.1, 8, (1998)
If There's Heaven, It Should Expect Changes, Giovannini, Joseph , New York Times, August 14, p.1, 10, (1997)
Lo Studio e l'Architetto: Paul Rudolph Studio, Gavinelli, Corrado , Ottagano, Sept.-Nov., Volume 31, p.81-95, (1996)
American Masterworks: The Twentieth Century House, Frampton, Kenneth , New York, (1995)
Architects House Themselves, Webb, Michael , Washington, DC, (1994)
Paul Rudolph: Explorations in Modern Architecture, 1976-1993, Albrecht, Donald , New York, (1993)
[Paul Rudolph], , World Architecture, September, Volume 19, p.34-47, (1992)
Paul Rudolph: Dreams and Details, Bruegmann, Robert, and Beylerian George , New York, (1989)
An Architect Raises a "Green Mansion" Above the East Side, Yang, Linda , New York Times, June 30, p.12, (1988)
The Light House: Paul Rudolph's Triplex Aerie Suspended Over the Manhattan Skyline, Sorkin, Michael , House and Garden, January, Volume 160, p.88-95, 168, (1988)
Follies, Meyer, Jon , Arts Magazine, January, Volume 58, p.23, (1984)
Follies: Architecture for the Late-Twentieth-Century Landscape, Archer, B. J., and Vidler Anthony , New York, (1983)
A Folly, Rudolph, Paul Marvin, 1918-1997 , Follies: Architecture for the Late-Twentieth-Century Landscape, New York, p.86-88, (1983)
Some Modern Follies to Amuse and Entertain, Goldberger, Paul , New York Times, November 3, p.C10, (1983)
Storie di Ordinaria Follia/Follies, Irace, Fulvio , Domus, November, Volume 644, p.29, (1983)
Interior Spaces Designed by Architects, Hoyt, Charles K. , An Architectural Record Book, New York, (1981)
The City Observed, New York : A Guide to the Architecture of Manhattan, Goldberger, Paul , New York, (1979)
Paul Rudolph Apartment: New York City, U.S.A., Rudolph, Paul Marvin, 1918-1997 , Global Architecture Houses, Volume 5, p.106-109, (1978)
Record Interiors of 1978, , Architectural Record, January, Volume 163, p.Cover, 77-79, (1978)
100 By Paul Rudolph / 1946-74, , Architecture and Urbanism, July, p.1-327, (1977)
La Casa di un Architetto – The Apartment of Paul Rudolph in New York, , Domus, October, p.36-38, (1977)
Supermannerism: New Attitudes in Post-Modern Architecture, Smith, Ray C. , New York, (1977)
Architectural Photography, Molitor, Joseph W. , New York, (1976)
A Spectacular Apartment by Paul Rudolph, , House and Garden, October, Volume 148, p.116-123, (1976)
Chronological List of Works by Paul Rudolph 1946-1974, , Architecture and Urbanism, January, Number 49, p.148-169, (1975)
Inside today's home, Faulkner, Ray, and Faulkner Sarah , New York, (1975)
Paul Rudolph, Oder, Die Formulierung der Bedeutung Eines Bauwerks, Kramer, Paul R. , Werk, Volume 60, p.446-453, 456-457, (1973)
The Designers: Floating Platforms, Smith, Ray C. , Progressive Architecture, May, Volume 48, p.149-151, (1967)
White-on-White, Its Optical Surprises, , House Beautiful, September, Volume 109, p.148-149, (1967)