Micheels Residence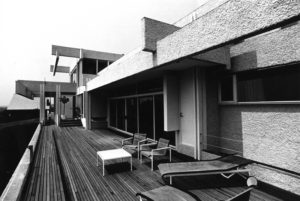 Date(s): 1972 – 2007
Location: Westport, Connecticut
Status: Demolished
Type: Residence
In his 1972 scheme for the Louis Micheels family, Rudolph returned to the linear organization favored in the Fifties that allowed both expansive views and cross ventilation. By this time, though, his interest was in the organization of planes to define space rather than a clear expression of a single enclosing volume. Scandalously demolished in 2007, it still remains an evocative statement of what Rudolph could achieve through relatively modest means.
As with the 1954 Applebee Residence, public spaces form the center of the house but here also include the kitchen. The living space again separates the two bedroom wings: the children's bedrooms and studies on one side, beyond the kitchen, and Master and guest bedrooms on the opposite. The lower level contained a workroom, storage and mechanical spaces. All rooms faced south to the Long Island Sound.
Continually warring with the modernist virtue of structural honesty, Rudolph devised a system of prefabricated wood box beams with all vertical surfaces coated with white cement and aggregate, not unlike the Deane Residence, though here a more decisive effort was made to undermine structural expression:
… Wood, by its nature becomes a linear element. It is instead treated here as a planar element, like concrete.
The spare all-white material palette—almost immaterial in its abstraction—had the effect of living inside a study model where there is only solid and void, a series of planes suspended miraculously in space. Though in concert they create a physical enclosure, no single element dominates. The essence of the project is best described in Rudolph's own words:
I want to a million things going on at once but they must be resolved and balanced, because it is through the resolution of tension that something becomes dynamic.