Sarasota High School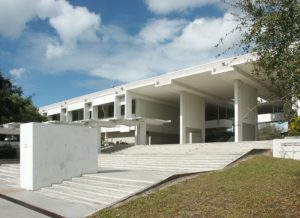 Date(s): 1958 – 1960
Location: Sarasota, Florida
Status: Built
Type: School
The second of two high schools Rudolph completed for the Sarasota School District, Sarasota High School forms both a bookend to the work of the Fifties and a premonition of the work to follow.
While preoccupied with ideals of structural clarity inherited from his education at the Harvard Graduate School of Design, Rudolph's first school, Riverview High School, presented a rather cool-headed Miesian solution of an elegantly proportioned steel skeleton. Following immediately after its completion, Rudolph's second project was conceived as a volumetric study of folded concrete planes. Its design owed as much to his dissatisfaction with its immediate predecessor as it was by a fascination with Le Corbusier's work in India.
Constructed of a system of concrete piers and folded plates, classrooms are organized along an open-air spine designed t maximize natural ventilation. These were still the days before the widespread use of air conditioning, so the exterior is similarly treated with a cantilevered brise-soleil, shielding the building's glass skin from the intense glare of the Florida sun. It was called "A house of cards" by contemporary publications, a reference to the fact that what appears as structure from a distance, is found to be purely ornamental from close proximity.
And it is from a distance that the building's most striking feature –a sculptural pedestrian canopy–gives, with its grand staircase, the only indication of scale from the exterior. Similar canopies connected Rudolph's building to an earlier high school building on campus as well a separate gymnasium. Rudolph considered this his first 'mature' work precisely because it was the first time space, instead of structure, drove the design.