Deane Residence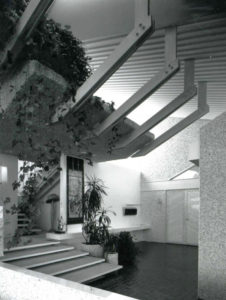 Date(s): 1969
Location: Great Neck, New York
Status: Built
Type: Residence
Designed for a former executive of Endo Pharmaceuticals, the Deane residence continues in the spirit of the Burroughs Wellcome Headquarters, where nearly every aspect of its design derives from a single geometric figure. Returning for the first time to the expressed wood members of the Fifties, each module is constructed of bolted 2×12 lumber, and the frame repeats at regular four-foot intervals along the length of each volume as they extend forward and backward through space. These are then unfolded into Y-shaped vertical supports, similar to Greeley Laboratories but far more integrated within the spatial concept.
From its plot overlooking the Long Island Sound, the exterior it suggests many things–a ship's hull, a dinosaur skeleton, "A wave from the sea." Interior spaces are arranged into three principle zones, separated into discrete volumes that slide past each other. Two bars of smaller programmatic elements (bedrooms, kitchen, and service area) frame an expansive central living space. Family bedrooms form one side of the house, with a master suite below and children's rooms above. Kitchen and service areas—the house was designed for live-in help—form the opposite volume.
A rare instance where the view is presented immediately upon entry, one is compelled either a few steps up on the right toward the library, or below to the seating area, through a gradual, winding descent. All wall surfaces are coated with the same plaster and aggregate, both inside and outside. Richly embellished surfaces dominate the living room, where an irregular pattern of mirrors reflects light from the clerestory window, and continues into the master suite, with its ribbed copper ceiling. These embellishments highlight the underlying conflict between structural expression and the complexity of overlapping three-dimensional spaces.