Bass Residence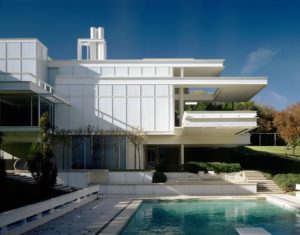 Date(s): 1970-1976
Location: Fort Worth TX
Status: Built
Type: Residence
Rudolph's most ambitious residence in both size and scope was, in his mind, also his greatest. Dazzling if not domestic, its stark white forms seem to hover above the landscape rather then grow out of it in an elegant counterpoint of floating horizontal planes and volumes. Frank Lloyd Wright's Fallingwater had been a fascination for thirty years, since his time at Auburn, and it is said that Rudolph visited it shortly before beginning the design for the Bass project.
The street facade is almost completely free of windows, and is concealed by the thick grove of trees encircling the property. A private, family entrance is placed between the house and the garage, near the kitchen. The exterior consists entirely of exposed wide-flange steel, painted white, with enameled aluminum infill panels.
Only inside does the spatial logic begin to reveal itself. One enters the Bass house under a dramatic forty foot cantilevered volume, two stories above and a contrast is struck by a low (7′-4″) entry door and equally constricted foyer. No doubt it would be even lower if allowed by the building code. This lowest level, partially buried in the hillside, contains changing rooms and a guest suite and, further inward, a double height recreation room. Extending the natural slope of the site inward, the main living level is organized within a series of gently cascading terraces running the width of the house from the kitchen at one end down to a suspended seating pit, the descent of the platforms corresponding to the slope of the site.
On the third level, a glazed bridge runs above the dining room, connecting the children's bedrooms with master suite to the south. Proceeding further upward, Ms. Bass' dance studio is perched at the top with a commanding view of the property. In all, there are four principle levels including the penthouse dance studio, though modulation of the floor plane means there are in fact closer to twelve, with fourteen different ceiling heights.
Outside, a floating canopy stretches between the two upper wings of the house, truncating their outward thrust and framing a three-sided courtyard, which in the summer is protected from the sun by canvas awnings. Running in the same direction as the canopy, a multilevel terrace leads south, downhill to a cantilever over the swimming pool. Rudolph explains the origins of these interlocking forces as:
[The] ideal of weight and counterweight, similar to the movement of the human body, became the genesis of this house.
Landscape architect: Robert Zion, Russell Page
Drawings: Design Drawings / Sketches: Paul Rudolph Architect
Photos: Model: Paul Rudolph Architect; Construction: Paul Rudolph Architect; Post-Construction: rda
Bibliography
Sveiven, Meghan: AD Classics: Bass Residence / Paul Rudolph, ArchDaily, October 31, (2010)
Fox, Stephen: The Stars are Big and Bright—Deep in the Heart of Texas, OffCite Blog, August 10, (2009)
Germany, Lisa: Great Houses of Texas, New York, (2008)
De Alba, Roberto: Paul Rudolph: The Late Work, New York, (2003)
Fuller, Larry Paul: The American Institute of Architects Guide to Dallas Architecture: With Regional Highlights, [New York], (1999)
Monk, Tony : The Art and Architecture of Paul Rudolph, Chichester, West Sussex, (1999)
Gunderson, Mark: Rudolph and Texas, Texas Architect, May, Volume 48, p.50-52, (1998)
LeBlanc, Sydney: 20th Century American Architecture: 200 Key Buildings, New York, (1993)
Schmertz, Mildred F.: Texas Tour de Force, House and Garden, December, Volume 163, p.164-173, (1991)
Futagawa, Yukio: Paul Rudolph: Dessins d'Architecture: Architekturzeichnunge: Architectural Drawings, , New York, (1981)
Sumner, Alan: Dallasights: An Anthology of Architecture and Open Spaces, Dallas, TX, (1978)
100 By Paul Rudolph / 1946-74, Architecture and Urbanism, July, p.1-327, (1977)
Chronological List of Works by Paul Rudolph 1946-1974, Architecture and Urbanism, January, Number 49, p.148-169, (1975)
Rudolph, Architects' Journal, September 4, Volume 160, p.526-527, (1974)